The Best Exotic Marigold Hotel
is a coming of age story in a rather unlikely way. Its main characters are not novice youngsters or young adults feverishly searching for their life's purpose in the many daunting years ahead of them. Hardly. Instead, the characters that make up this story are all well over the hill and have had plenty of that kind of life experience. But despite its displacement in the traditional sense of that genre,
The Best Exotic Marigold Hotel
basks in the seemingly youthful splendor and energy of a coming of age story.
Immediately, the audience receives a crash course of introductions by way of the film's seven main characters, all living in various parts of England, all unknown to each other's own existence. There's the newly widowed housewife, Evelyn (Judi Dench), looking to sell her home and pay off her family's debts; another woman, Muriel (Maggie Smith), in need of an affordable hip replacement (who is also racist); a judge by the name of Graham (Tom Wilkinson), who has been telling himself for years he will soon retire; Norman (Ronald Pickup), a single man of the Don Juan type always looking for some fun under the sheets despite his old age, Madge (Celia Imrie), a woman of similar stature that, despite a few unsuccessful marriages, still hopes to be swopped off her feet by a beloved Prince Charming. And then there's the groups' only married couple, Douglas (Bill Nighy) and Jean (Penelope Wilton), who still appear much too young for their retirement community home, fit with too many handrails and an emergency button- but it's all they can afford. What groups these people together is the tight budget they must plan their retirement on, making this comfort that much harder to attain. The introductions become hectic at first and almost too much too soon, but through each of their three minutes of screen time, we see that none of these folks are cinematic caricatures. Each one is cleverly thought out and totally real. No doubt there is a lonely Evelyn and a feisty old Norman out there in our world. Their individual stories make the film much more real and relatable. In their own ways, each character is trying to re-attain the peace of mind they had from years prior and this subsequently takes them to the same destination- India, where they all meet.
With over 1.2 billion people, the movie does an excellent job capturing the organized confusion that defines India. Brilliant colors cram the frame and it becomes a joy to sit there and stare- thankfully not having to actually deal with the ensuing chaos we witness. Their residence at The Best Exotic Marigold Hotel "for the elderly and beautiful" is managed by an exuberant young manager, Sonny Kapoor (Dev Patel, formerly seen in
SlumdogMillionaire
). The hotel's dilapidated condition, not as advertised in the brochure, comes as a shock to the residents and becomes one of the discomforts of India. Nonetheless, Sonny assures them that the brochure holds his image for the hotel's future, remaining blissfully optimistic despite their many complaints.
Sonny's genuine and bright persona drives the film and its characters, forcing the more reclusive ones out of any comfort zone they hope to have. It's a clash of cultures and a clash of ideals for these seasoned travelers, some more open to it than others. Muriel's hip replacement and recovery confines her to the hotel, but it is her racism that really underscores her ability to seek adventure in this new land. Jean, also tentative to leave the hotel, spends her days reading in the hotel's courtyard. Their complaints are many, from the food to the smell and it is almost sad as we see them belittle Sonny's every attempt to make for them a hospitable environment.
While his wife Jean prefers books, Douglas pleasantly dives into everything India has to offer traveling to various temples and other cultural high points, sometimes in the company of Evelyn, who shares his enthusiasm. In a similar way, Graham, who lived in India for his first 18 years, seeks to revive the memories of the delightful childhoods he once had before a mistake of his own forced him and his family to relocate back to England. His story is the most touching and his efforts are truly triumphant.
But he is not the only character we hope for. Despite the nagging pessimism from Muriel and Jean, they too are struck by the magic and wonder of Indian culture, just as we are from the comfort of our seats. The Best Exotic Marigold Hotel has a full range of emotions. While much of it comes as a truth-seeking life manifestation, the film certainly has no shortage of laughs either. Norman's attempts to woo women are some of the film's funniest and most memorable sequences. In all, this is nothing but a splendid film, with a warm heart and a provoking intelligence too.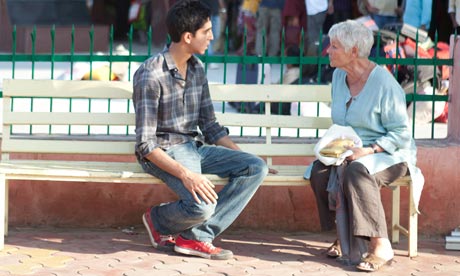 The movie's philosophy is often very externalized, whether it be through character conversations or Evelyn's journal entries. But if you're not careful, the words might easily slip past and this would be a shame because like all of the characters in the movie, we too can learn a thing or two about living from others. For the most part, these lines usually come from Sonny, Douglas or Graham trying to bestow some thoughtful suggestions to the less enthused friends. However, in a few touching and heartfelt instances, this common practice gets reversed as some of the most unsuspecting characters come to the help of those they initially wanted no part of a few days prior.
And if I could, as I sat slouched in my movie theater seat, I would have written them all down. But unfortunately that did not happen. Thankfully though, some of these thoughtful words get repeated throughout the film, as if the characters/director deemed them important and in need of reiteration whether it's for the characters' sake or for our own. And to end this I would like to share with you my favorite phrase and probably the most important one from the film given to us by Sonny- "Everything will be all right in the end... if it's not all right then it's not the end."