To consider
Hukkle
a murder-mystery, as it is described, might be somewhat misleading, yet that is exactly what it is- to an extent. Both murder-mystery and avant garde, this 2002 Hungarian film is a work of art that defies genres and categorization.
Hukkle
is sometimes comical, other times eerie and always tantalizing.
Hukkle
assumes no relation to the classic story-styled narrative viewers are used to, director György Pálfi delivers more awe and wonder than thrills in his carefully presented survey of a rural Hungarian town. There is a plot, sometimes, but the story is hardly what we concern ourselves with.
Hukkle
shares the similar scanty, free-wielding plot found in Richard Linklater's
Slacker
(1991). For
Slacker
, the existence of a plot is highly debatable. The same can be said for
Hukkle
, whose murder-mystery premise takes a backseat in favor of captivating imagery and visual poetics. The film, which runs close to 80 minutes, contains no absolutely dialogue. The closest thing we have is an old man who constantly hiccups.
And given the array of both intimate and grandiose images the movie boasts, maybe a more sensible comparison for
Hukkle
would be Terrence Malicks's
The Tree of Life
, and Malick's own infamous and unorthodox directing style. As the camera peacefully meanders through the town , Pálfi evokes a stunningly visceral and meditative approach to his cinematography. More often than not, his fascination seems to be less with people and more with the birds and bees, or tall golden strands of prairie grass blowing in the praise. Such pristine images force us to reassess some of the most obvious truths regarding movies as well as life and beauty. We find ourselves not only captivated by images, but also by these simple sounds- the buzzing of bees or whispering winds against the tall meadow grass.
Hukkle
is a voyeuristic parade that evokes wonder as much as bafflement and confusion.
But if the movie was 80 minutes of wonderfully-crafted shots of a quaint Hungarian town, the awe and beauty would soon die out. There must be something more, and there is. After all, Hukkle is described as a murder mystery, in the most unconventional of that sense. Abrupt in their disparity, images of textile factories, tractors tending crops and doctor's offices soon find themselves sneaking into the frame, breaking the pattern of pristine natural beauty we get early on.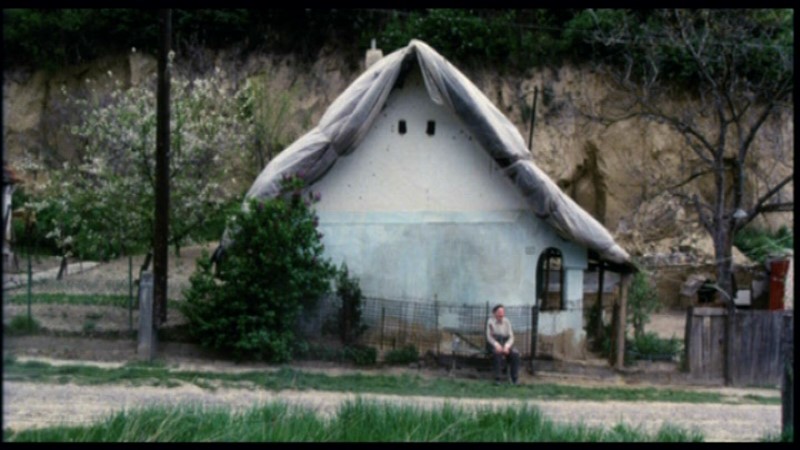 About halfway into Hukkle, during one of its many sweeping shots through high grasslands, our sight becomes obstructed by a police car and its accompanying officer. In any conventional crime thriller or murder mystery, this would typically be the opening shot of the movie— our hero stumbling upon the crime that becomes our story and his case to crack. Within a few moments, the scene changes from the countryside back to the town, as we follow people dressed in black heading to a funeral. The film begins to more or less establish itself as a murder mystery and our eagerness continues after the funeral, as we try to put the pieces together, still with no dialogue. But from here, the movie does not take the form of a regular narrative. Providing us with what he has so far, Pálfi is much too crafty to let this slip into a classic who-dun-it type crime movie with a cop chase along the back roads of Hungary. The violent and abrupt pacing would have no place in this mesmerizing tale. Further and further into the movie, just as it seems to taking direction, Pálfi's choice of images seems to become more bizarre and outlandish, less keen on the wonderful beauty of nature that he seemed once so captivated with. More bodies are uncovered, and more funerals are attended. There is some doing this, right? With each encompassing image, we seem less sure of it all.
But to discuss the plot any further would spoil the experience of Hukkle. And as I have already mentioned, the plot does by no means drive this film. Much of the movie rests on witnessing this series of seemingly unrelated images brought together for a purpose we cannot figure out, but need to know. Akin to The Tree of Life, maybe our answer lies within the realm of nature and grace, or then again maybe not. In any case, Hukkle is a movie that could be watched once, hated, and never seen or discussed again, or, more likely, one that is watched ten times over, each viewing answering one question and then handing off a dozen more.